Traditional recipes always inspire me: Gazpacho and a beautiful trip to San Sebastian in Northern Spain brought this one forth. You can taste every ingredient because the formula is uncomplicated and direct. Every vegetable (fruit) is available fresh from the farmer's market. Plus, you don't even need a stove!
Step by Step Instructions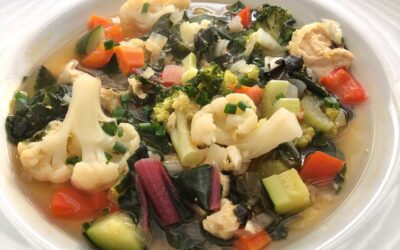 By: Chef Laura Bonicelli If quick, healthy, and delicious appeals to you, this soup is for you. It takes more time to chop the vegetables than it does to cook them. My Veggie-up Chicken Soup is a great soup to make early in the week and have on hand for lunches. Buy...