By: Chef Laura Bonicelli
Baking muffins with this raspberry muffin recipe is a great way to introduce children into the kitchen.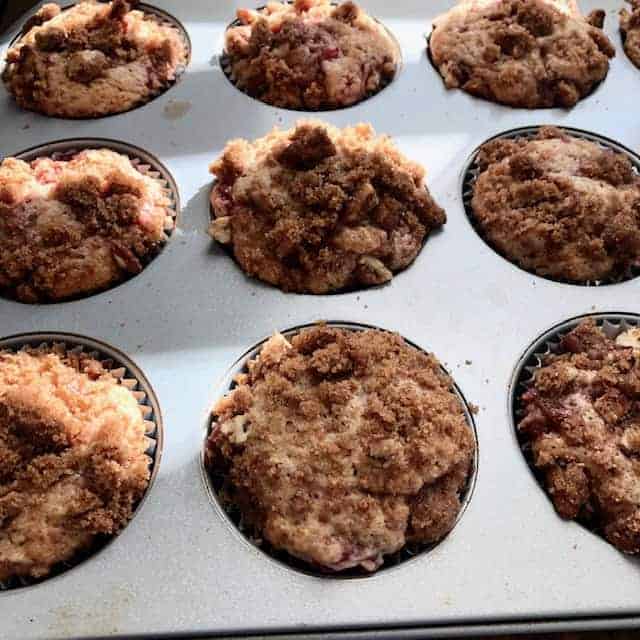 This muffin is a "special occasion" muffin! It's the muffin you serve for holidays and special brunches. It's the muffin recipe you reluctantly share and also proudly share. It is a sweet muffin, so be prepared for that. It's also a fairly delicate muffin when right out of the oven. That's because of the amount of fruit. I usually make them ahead and reheat them until warm (350º for 5 minutes). They also make great mini-muffins. Reduce the baking time to about 12 minutes if you go down that road. They are rich, so there's no need to serve them with butter.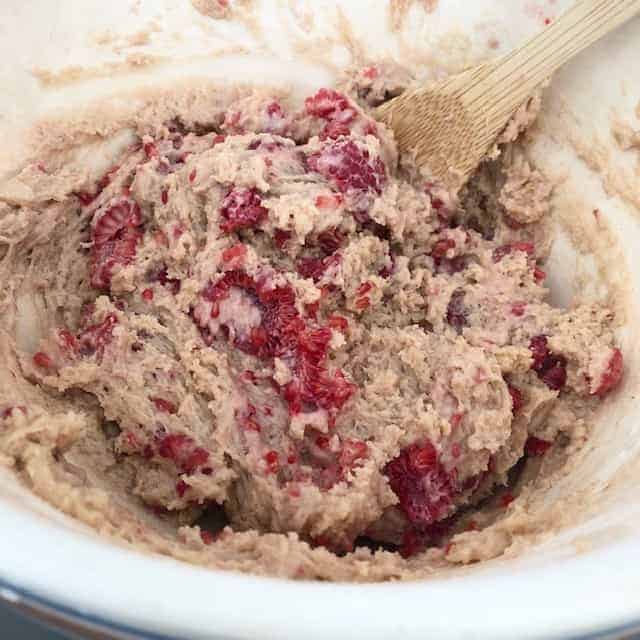 The batter goes together very quickly.  It's best to incorporate the liquids into the dry ingredients before you add the fruit and lemon zest.  You want to stir in the fruit with a minimum of mixing. I have tried this muffin with other types of fruit, but honestly, the raspberries are perfect. My second choice, however, is peaches. I blanch them to remove the skin and then dice them.
The lemon zest in the streusel topping helps to offset the sweetness.  Make sure you are only zesting the yellow part of the lemon skin; the white pith is bitter. Freshly grated nutmeg is more pungent than jarred, consider adding a little more if you do use ground nutmeg.  To learn more about spices in the club, click here!
Once you've distributed the topping evenly among your muffins, press it down into the batter slightly to help it stick to the top. You can make the muffins without the streusel topping, but they are not as good.  For that reason, I recommend saving this recipe for those occasions when you want a treat!  If you like this recipe try our Buckwheat Almond Flour Pancakes.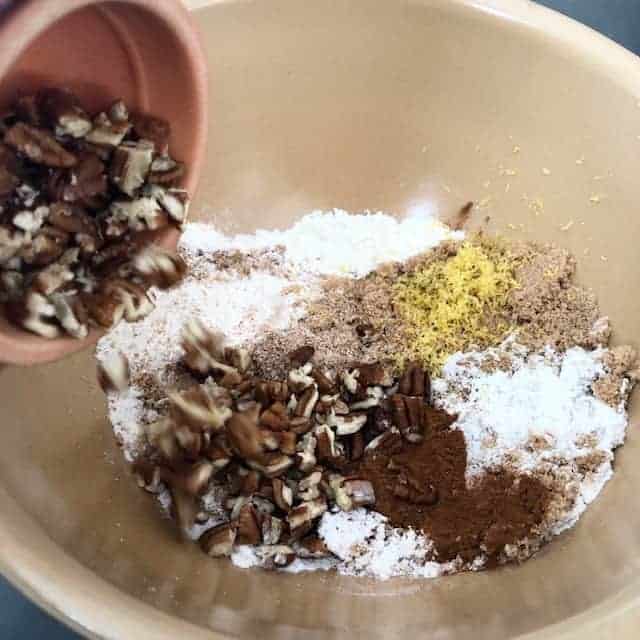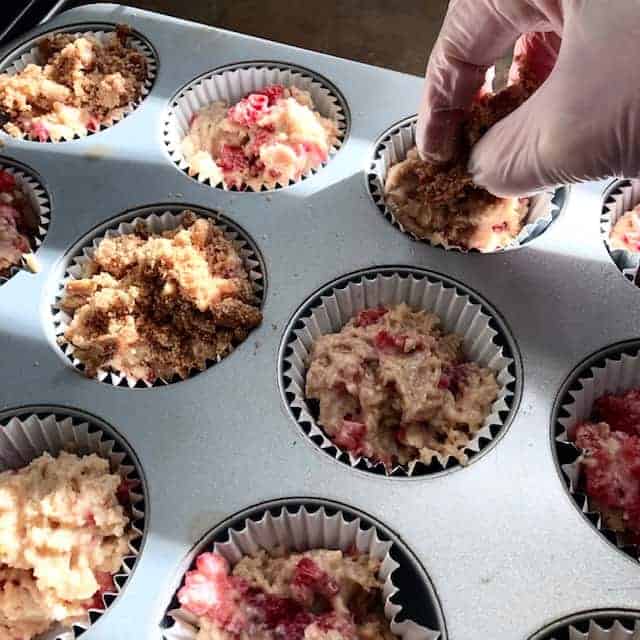 Step by Step Instructions
Raspberry Streusel Muffins
Equipment
12 cup muffin tin

muffin cups
Ingredients
1 1/2

cups

flour

1/4

cup

sugar

1/4

cup

dark brown sugar

2

teaspoon

baking powder

1/4

teaspoon

salt

1

teaspoon

cinnamon

1/2

teaspoon

freshly grated ntmag

=====

1

egg -- lightly beaten

1

stick unsalted butter -- melted and cooled slightly

1/2

cup

Milk

1 1/4

cup

Raspberries

1

teaspoon

lemon zest

=====topping=====

1/2

cup

chopped pecans

1/4

cup

brown sugar`

1/8

cup

Flour

1

teaspoon

ground cinnamon

1/2

teaspoon

freshly grated nutmeg

1

teaspoon

grated lemon zest

2

tablespoons

unsalted butter -- melted
Instructions
Preheat oven to 350 degrees.

Line 12 muffin tin cups with liners.

Sift the flour, sugar, baking powder, salt, cinnamon, and nutmeg together into a medium bowl. Make a well in the center.

Place the egg, melted butter, and milk in the well. Stir with a wooden spoon just until all ingredients are combined. Quickly stir in the raspberries and lemon zest. Fill each muffin cup three fourths full with the batter.

Combine the pecans, brown sugar, flour, cinnamon, and lemon zest in a small bowl. Pour in the melted butter and mix. Sprinkle the mixture evenly over the top of each muffin.

Bake until browned and firm 15 - 18 minutes.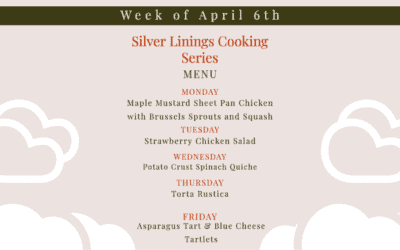 Hello there!  The Silver Linings Cooking Series is a live-cooking series (with me - Chef Laura Bonicelli).  The mission of both the Farmers Market and myself is to give you creative and flexible weekly menus, recipes, and ideas.  We hope to help you cook and eat well,...