A pavlova is a meringue-based dessert named after the Russian ballerina Anna Pavlova.  The meringue is crisp on the outside and marshmallow-like on the inside.  I top it with a whipped cream laced with lemon curd.  Then a layer of roasted berries and finally, a layer of fresh berries.  I decided to roast the berries in lieu of topping the whipped cream with jam (which is often included in recipes). 
It's best to assemble this right before serving.  Once the meringue is topped, it will become soggy quickly.  It's a perfect recipe for a summer get together!
Step by Step Instructions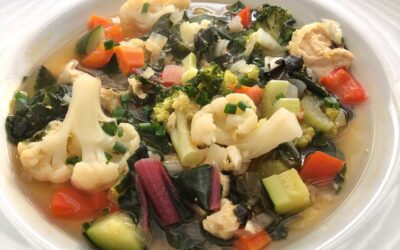 By: Chef Laura Bonicelli If quick, healthy, and delicious appeals to you, this soup is for you. It takes more time to chop the vegetables than it does to cook them. My Veggie-up Chicken Soup is a great soup to make early in the week and have on hand for lunches. Buy...