Sesame Soba Noodles with Broccoli and Chicken is a quick, healthful, simple, and delicious meal. It's also a complete meal, which keeps your menu simple.
Soba is a Japanese buckwheat noodle. The noodles cook up quickly (3 to 5 minutes) and also overcook easily, so you need to keep an eye on them. They have a delightful flavor and are a bit slippery – so plan on using your pasta twirling technique when eating these.
Step by Step Instructions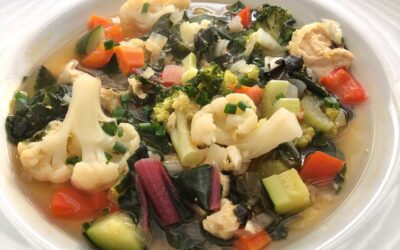 By: Chef Laura Bonicelli If quick, healthy, and delicious appeals to you, this soup is for you. It takes more time to chop the vegetables than it does to cook them. My Veggie-up Chicken Soup is a great soup to make early in the week and have on hand for lunches. Buy...