Hello there!  Thank you to everyone who has been watching and participating in the series.  This will be the final week for the Silver Linings show.  We will be moving forward with live-cooking with the Minneapolis Farmers Market in the same Facebook-live format – working with market ingredients and more throughout the upcoming season.
The Silver Linings Cooking Series is a live-cooking series (with me – Chef Laura Bonicelli of The Bonicelli Cooking Club in conjunction with the Minneapolis Farmers Market. The mission of both the Farmers Market and myself is to give you creative and flexible weekly menus, recipes, and ideas.  We hope to help you cook and eat well, not only during this crisis but also moving forward. This is an opportunity to hone your culinary skills and further develop your relationship with food. We will stream on the Minneapolis Farmers Market Facebook page and the Bonicelli Cooking Club Facebook Page.  Please share this page and the streams when they happen!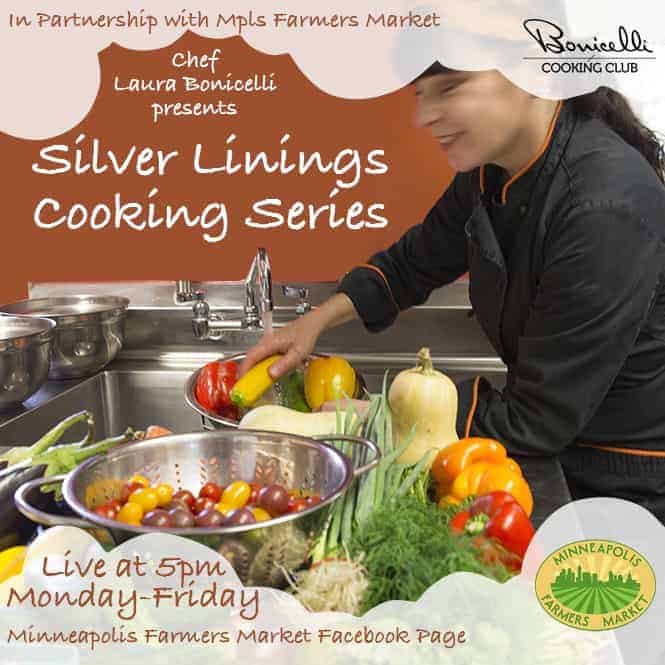 On Sunday, May 10th, at 5 pm, we'll go live on FB to talk about this menu and the recipes. We'll discuss possible substitutions and how the recipes work together, among other things:-) The links for all documents are below.  You'll have until Monday to get your ingredients together.  I'll cook and stream live with you Monday through Friday at 5 pm.  Any questions, email me.