I started making Zucchini Spaghetti back when gluten-free became a thing.  At that point, I'd use a vegetable peeler to create thin strips (still a favorite way to prepare them). But, I also bought a spiralizer – which gives the noodles a traditional spaghetti texture and look. This recipe is just perfect for peak Summer ingredients. I use the pesto with the ricotta to create a "sauce."
Honestly, the spiralizer is the best $29 I've ever spent.
Chef Laura
Step by Step Instructions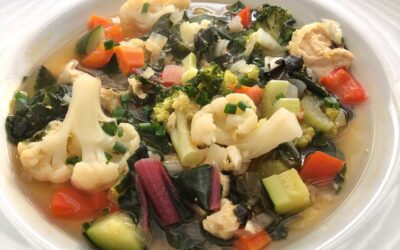 By: Chef Laura Bonicelli If quick, healthy, and delicious appeals to you, this soup is for you. It takes more time to chop the vegetables than it does to cook them. My Veggie-up Chicken Soup is a great soup to make early in the week and have on hand for lunches. Buy...