I started making Zucchini Spaghetti back when gluten-free became a thing.  At that point, I'd use a vegetable peeler to create thin strips (still a favorite way to prepare them). But, I also bought a spiralizer – which gives the noodles a traditional spaghetti texture and look. This recipe is just perfect for peak Summer ingredients. I use the pesto with the ricotta to create a "sauce."
Honestly, the spiralizer is the best $29 I've ever spent.
Chef Laura
Step by Step Instructions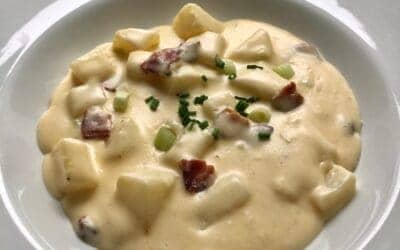 By: Chef Laura Bonicelli Baked Potato Soup is a recipe you save for a snowy day. It's a beautiful winter warm-up soup! Buy your ingredients at your favorite Farmers Market!  About Baked Potato SoupHere's what's fantastic about this recipe. First of all, it goes...