Embark on Your Culinary Adventure with 'The New Basics of Cooking'!
25% off the usual price of $649
for LIFETIME ACCESS! plus
BOGO Offer: BUY ONE GIFT ONE – OFFER ENDS DECEMBER 7th @MIDNIGHT
GIFT INFORMATION WILL BE
COLLECTED VIA EMAIL IMMEDIATELY
AFTER CHECKOUT – EMAIL CERTIFICATE
PROVIDED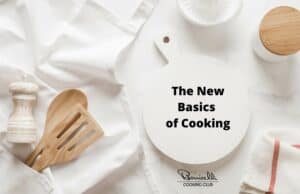 🤝Join 'The New Basics of Cooking'. Master culinary fundamentals with our interactive eight-class course. HD videos, quizzes, and downloadable materials will elevate your cooking to new heights.
✅ Secure and Simple Checkout Your payment is protected.
🎁 For Gift Purchases 🎁 When you gift a course, we set up a management account for you and a separate user account for the person receiving your gift. The recipient will be notified right away. However, if you prefer to surprise them yourself, simply choose to have the gift email sent to you. This way, you can share the good news with them whenever you're ready. ✉️
🤗 The first class/module will be available on January 15th with a new class module released every week! 
🌟 Lifetime Access Unlock endless culinary possibilities with lifetime access to "The New Basics of Cooking." Enjoy ongoing updates, ensuring your skills stay fresh and exciting!
📖 Real Stories, Real Results:
Chef Laura didn't just teach me to cook, she transformed my cooking skills, and I actually love it! Claire
Thanks to 'The Basics of Cooking', I landed great job in a great kitchen. Liam
100% Satisfaction Guarantee for 7 Days – after course begins
Ready to Cook with Confidence?