There are many ways to participate in the Bonicelli Cooking club. The best is, of course, to join – but a great first step is to sign up for our mailing list!  You'll get a recipe of the week, great free information, and cooking club news.  We'd love to have you! 

All Things Cooking
The club content has over 100 lessons dedicated to cooking.  "The Basics" is a seven class course.  It provides an in-depth foundation and core of the club.

All Things Baking
"Baking Basics"is new to the club and will be augmented with "Advanced Baking".  Each course will be expanded and updated yearly.

All Things Planning
From shopping tips and lists to kitchen organizational plans.  Learn to plan a holiday party and organize your spice cabinet!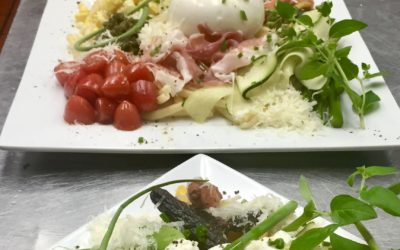 By: Chef Laura Bonicelli Every chef has a dish that they know is greater than the sum of its ingredients. Here it is! This picture is from a demo at my favorite Farmers Market! If you want more recipes Join The Club!!![mepr-hide rules="3130"...