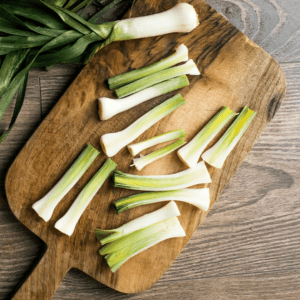 Halibut en Papillote with Lemon Leek Rice and Herbs
© Chef Laura Bonicelli
A delightful way to prepare fish in beautiful, table-ready, packages.
Course
Dinner, Main Dish - Fish and Seafood, MM-Blue
Ingredients
2

tablespoons

unsalted butter

1 1/4

cups

thinly sliced leek -- white and light green parts only

Kosher salt and freshly ground black pepper -- to taste

1

cup

long grain white or basmati rice

1 1/2

cups

chicken stock

1/2

teaspoon

Kosher salt

2

strips lemon peel -- 3/4-inch x 3-inches

yellow part only
=====
1/4

cup

unsalted butter -- softened

1

medium shallot -- minced

2

tablespoons

minced fresh dill or tarragon

1

tablespoon

minced Italian parsley

1

tablespoon

fresh lemon juice

Kosher salt and freshly ground black pepper -- to taste
=====
4 1-

inch

thick skinless halibut fillets -- 5 to 6 ounces each

Kosher salt and freshly ground black pepper -- to taste

8

thin lemon slices -- seeds removed

1/4

cup

dry white wine
Instructions
Melt the 2 tablespoons of butter in a medium saucepan over medium heat. Add the leek and season with salt and pepper. Cook, frequently stirring, until leek is tender but not browned, 5 minutes.

Add the rice, stir to coat, and cook, stirring to toast the rice, 2 minutes. Add stock, 1/2 teaspoon of salt, and the lemon peel. Bring to a boil, reduce to a simmer, and cover. Simmer until the rice is tender and liquid is absorbed about 15 minutes. Remove from heat, discard the peel, fluff, taste, and add more salt if necessary. Set aside.

In a small bowl, mix butter, shallot, dill, parsley, and lemon juice ó season with salt and pepper. Set aside.

Preheat oven to 375 degrees F.

Cut four 15x24-inch pieces of parchment. Fold each sheet in half, forming a 15x12-inch rectangle. With a pencil, draw a half-heart on each side, centering the heart on the fold and working to the edges of the paper. Cut out the hearts.

Unfold the parchment and arrange each on a work surface. Working with one-half of each heart, distribute the rice equally to each heart. Place a halibut fillet on top of the rice and season with salt and pepper. Smear each fillet with butter-shallot mixture. Arrange 2 lemon slices on top of each and sprinkle each with 1 tablespoon of white wine.

Fold the other half of the heart over the fish and line up the edges. Starting at the top of the heart, fold over about 1/2 inch of the edge, press to make a crisp crease. Continue working your way around the edge of the packet, making overlapping pleats. Always press firmly and make sure that the folds hold. Re-do any creases that are not staying. Twist and tuck the tip of the heart under to finish the package.

Transfer the packages to 2 rimmed baking sheets and bake for 8 minutes; rotate the baking sheets, and bake until the packets are puffed, another 8 minutes. Remove the packages from the oven and let them sit for 10 minutes. Plate and cut packages open in a cross, pulling back to open just before serving.
Nutrition
Calories:
390
kcal
Carbohydrates:
46
g
Protein:
7
g
Fat:
19
g
Saturated Fat:
11
g
Trans Fat:
1
g
Cholesterol:
50
mg
Sodium:
433
mg
Potassium:
248
mg
Fiber:
1
g
Sugar:
3
g
Vitamin A:
998
IU
Vitamin C:
4
mg
Calcium:
41
mg
Iron:
1
mg
Keyword
halibut, leeks, rice
Related