Roasting the fruit with balsamic vinegar really sets these beautiful pops apart. 
Paletas originated in Mexico. Both children and adults have enjoyed these delightful frozen pops for generations. 🇲🇽✨ Traditionally made with fresh fruit, water, or horchata, and (of course) sugar or agave, paletas are the perfect way to cool down on a scorching summer day.
The beauty of paletas is you can make them your own. Switch out ingredients and experiment with different flavors. You're good to go as long as it will go in a mold and freezes. Instead of Greek yogurt, try using sour cream. Feel free to swap the fruit raspberries and blackberries. Let your taste buds (and what's available) guide you!
I promise, whether hosting a backyard barbecue, sitting by a lake, or simply lounging by the pool, Strawberry Rhubarb Paletas are a guaranteed hit.
Here's a link to another favorite paleta recipe Cucumber Jalapeño Paletas – and check below for some pop mold resources.
Step by Step Instructions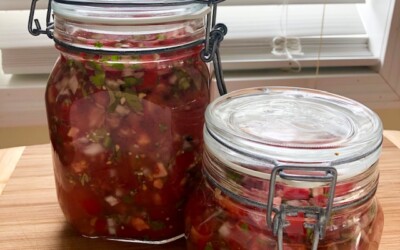 By: Chef Laura Bonicelli Preserving food with fermentation is an ancient process. Like canning and pickling, it's easy to do in your home kitchen. Buy your ingredients at your favorite Farmers Market! about Tangy Fermented Red SalsaFermented foods have significant...