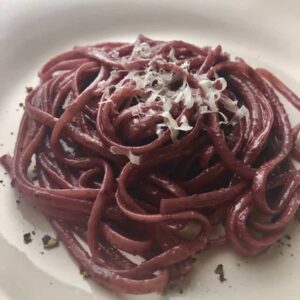 Vino Rosso Cacio e Pepe
© Chef Laura Bonicelli
Beautiful deep burgundy-colored pasta. Cacio e Pepe literally translates to cheese and pepper.
Course
Dinner, Main Dish - Pasta, Pizza, Sandwich, Rice, Main Dish - Vegetarian, MM-Blue
Ingredients
1

bottle full-bodied red wine -- I usually use a Chianti or Cabernet

4

cups

water

6

ounces

pasta -- bucatini

=====

2

tablespoons

unsalted butter

cubed

1

tsp.

freshly cracked black pepper

plus more for serving

=====

1

tablespoon

unsalted butter

2/3

cup

finely grated Parmesan

1/3

cup

finely grated Asiago

=====

extra cracked pepper and grated Asiago
Instructions
Reserve 1/4 cup of red wine. Bring the water and remaining wine (about 3 1/4 cups) to a boil in a 4-quart pot. Lower the heat and add the pasta (it tends to bubble over). Return the liquid to a boil and cook, occasionally stirring, until about 1 minute before done. Drain, reserving 1/4 cup pasta cooking water.

While the pasta is cooking, melt 2 tablespoons of butter in a large, heavy skillet over medium heat. Add pepper and cook, swirling pan, until toasted, about 1 minute.

Add the reserved wine and pasta water to the skillet and bring to a simmer. Add the cooked pasta and the remaining butter. Reduce heat to low. Add the Parmesan, stirring and tossing with tongs until melted. Remove pan from heat; add Asiago, stirring and tossing until the cheese melts, the sauce coats the pasta, and the pasta is al dente. Divide the pasta between two bowls and sprinkle with pepper and Asiago, if desired.
Notes
Copyright:
Chef Laura Bonicelli
Nutrition
Calories:
331
kcal
Carbohydrates:
33
g
Protein:
15
g
Fat:
16
g
Saturated Fat:
10
g
Polyunsaturated Fat:
1
g
Monounsaturated Fat:
4
g
Trans Fat:
1
g
Cholesterol:
40
mg
Sodium:
416
mg
Potassium:
120
mg
Fiber:
1
g
Sugar:
1
g
Vitamin A:
458
IU
Calcium:
315
mg
Iron:
1
mg
Keyword
asiago, bell pepper, bucatini, cheese, parmesan, red wine
Related