Sesame Soba Noodles with Broccoli and Chicken is a quick, healthful, simple, and delicious meal. It's also a complete meal, which keeps your menu simple.
Soba is a Japanese buckwheat noodle. The noodles cook up quickly (3 to 5 minutes) and also overcook easily, so you need to keep an eye on them. They have a delightful flavor and are a bit slippery – so plan on using your pasta twirling technique when eating these.
Step by Step Instructions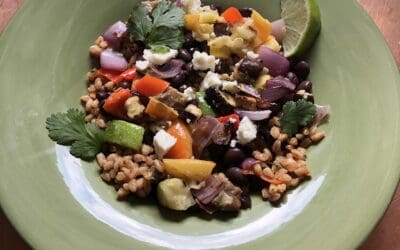 By: Chef Laura Bonicelli My Mexican Farro Bowl is a Fusion of the nutrient-rich grain farro and bold traditional Mexican flavors.The Nutritional Powerhouse Base🌶️🍯🌿🇲🇽 The foundation of this dish is farro, an ancient grain known for its chewy texture and nutritional...