Sesame Soba Noodles with Broccoli and Chicken is a quick, healthful, simple, and delicious meal. It's also a complete meal, which keeps your menu simple.
Soba is a Japanese buckwheat noodle. The noodles cook up quickly (3 to 5 minutes) and also overcook easily, so you need to keep an eye on them. They have a delightful flavor and are a bit slippery – so plan on using your pasta twirling technique when eating these.
Step by Step Instructions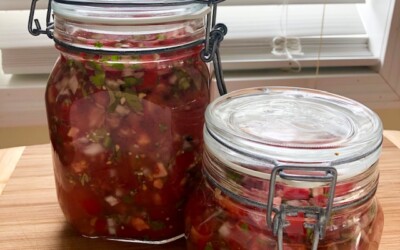 By: Chef Laura Bonicelli Preserving food with fermentation is an ancient process. Like canning and pickling, it's easy to do in your home kitchen. Buy your ingredients at your favorite Farmers Market! about Tangy Fermented Red SalsaFermented foods have significant...