By: Chef Laura Bonicelli
When gluten-free became a thing, I saw an opportunity to explore different flours to make the best buckwheat pancakes. ]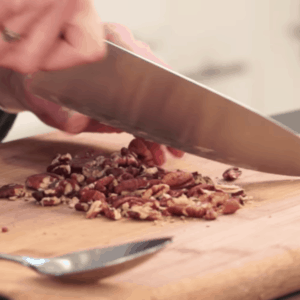 There are a lot of them. The process turned out to be quite expensive, and most of the flour store best under refrigerations. So, I wound up dedicating a shelf of one of my refrigerators to alternative flour storage, and after the initial investment of about $ 150, I started testing. Combinations of flour often replace wheat flour. This recipe uses buckwheat, almond flour, and brown rice flour, although I have to say that making a pancake is a more straightforward proposition than trying to use alternative flours in bread baking.
These pancakes are delicate and crepe-like. But as much as I love their texture, I think their flavor is fantastic. They have a beautiful lacey look.
They are thinner than a typical pancake, so I make them relatively small so that I can give each of my guests a nice stack. If you need a recipe to prepare for a special breakfast – this is it! As I said, they are delicate – so it takes some practice to flip them. Also, don't cook them too quickly. They are easier to flip if they cook slowly, and they also brown better and don't burn.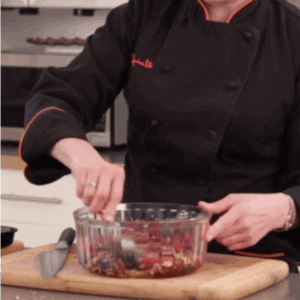 Berries, nuts, and maple syrup is quite a combination. I sprinkle them together over Irish oatmeal and pancakes, so for this recipe, I mix them all in a compote. The nuts are toasted first to enhance their flavor, and, of course, the maple syrup is real. I, for some reason, always think of this recipe around the holidays, although it isn't seasonal.
This recipe has a beautiful batter.  You'll find that almond flour compresses somewhat, so consider that while you're measuring.  It is best not to pack it. You are mixing the buttermilk and egg beforehand ensures a minimum of mixing time.
A well-seasoned griddle or cast iron pan is essential. I use one of my cast-iron pans, oil it well, and I never have a problem with the pancakes sticking.  It is, however, very important to heat your griddle before you add the batter. Also, know that the first pancakes are for tasting because they usually don't brown well.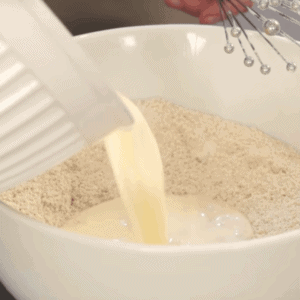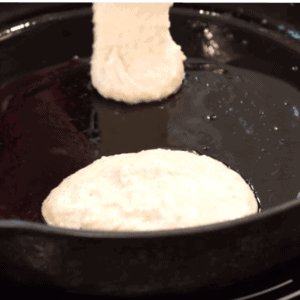 Step by Step Instructions
Buckwheat Almond Flour Pancakes with Berry Compote
This recipe creates delicate and flavorful pancakes that will delight gluten-free and gluten lovers!
Equipment
pancake griddle or heavy skillet

thin spatula - such as a fish turner
Ingredients
Compote
1

cup

blueberries

1

cup

raspberries

1

cup

pecans -- toasted and chopped

1/2

cup

maple sugar or honey
Pancakes
1

large egg

2

cups

buttermilk

1/4

cup

maple syrup

1

cup

almond flour

1

cup

brown rice flour

1/4

cup

buckwheat flour

1

Tbsp.

baking powder

1

tsp.

baking soda

1

tsp.

kosher salt

1/4

cup

unsalted butter

melted

canola oil for skillet
Instructions
Compote

Toast pecans in a 350-degree oven for 5-6 minutes. Chop them into relatively large pieces. Combine all ingredients in a medium-sized bowl. Stir together, slightly mashing the berries. Set aside.

Pancakes

Measure egg, buttermilk, and syrup into a small bowl. Whisk to combine.

Combine almond flour, rice flour, and buckwheat flour with baking powder, baking soda, and salt. Stir together with a whisk.

Pour wet ingredients into dry ingredients, whisking to combing. Pour in melted butter; stir until combined. Let sit for at least 15 minutes.

Heat a skillet over medium-low heat. Do not let the skillet get too hot. The pancakes can over brown quickly and need to cook slowly because they are more delicate than pancakes made with regular flour Brush skillet lightly with canola oil. Drop batter in 1/4-cup portions into the skillet, working two pancakes at a time. Cook for 3 minutes, until browned and well-set. Bubbles will start to come up through the batter. Gently flip the pancakes and continue to cook through for 2 additional minutes.

Serve pancakes with the compote.
Video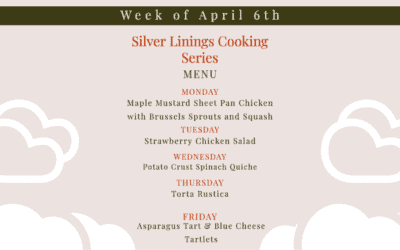 Hello there!  The Silver Linings Cooking Series is a live-cooking series (with me - Chef Laura Bonicelli).  The mission of both the Farmers Market and myself is to give you creative and flexible weekly menus, recipes, and ideas.  We hope to help you cook and eat well,...