If you are looking for a colorful, tangy, and unique salad to start a meal or be a meal – this is it!  Roasted beets are a hearty and earthy centerpiece to this salad and pair perfectly with orange, red onion, and walnuts.
Step by Step Instructions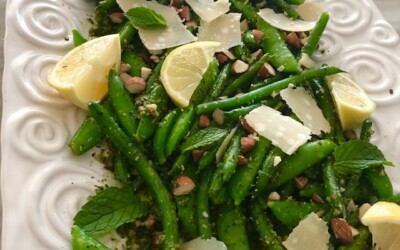 By: Chef Laura Bonicelli With their beautiful green color and crunch, Snap Peas and Green Beans work together perfectly in this delicious, unique summer side dish. Buy your ingredients at your favorite Farmers Market! about Snap Peas and Green Beans with Basil Mint...