I started making Zucchini Spaghetti back when gluten-free became a thing.  At that point, I'd use a vegetable peeler to create thin strips (still a favorite way to prepare them). But, I also bought a spiralizer – which gives the noodles a traditional spaghetti texture and look. This recipe is just perfect for peak Summer ingredients. I use the pesto with the ricotta to create a "sauce."
Honestly, the spiralizer is the best $29 I've ever spent.
Chef Laura
Step by Step Instructions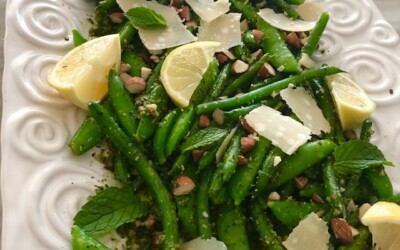 By: Chef Laura Bonicelli With their beautiful green color and crunch, Snap Peas and Green Beans work together perfectly in this delicious, unique summer side dish. Buy your ingredients at your favorite Farmers Market! about Snap Peas and Green Beans with Basil Mint...