By: Chef Laura Bonicelli
One of the essentials of good potato salad is perfectly cooked potatoes and eggs. Combine that with a great dressing and a couple of fun additions, like walnuts and chopped cornichons, and you have a fantastic recipe.
Buy your ingredients at your favorite Farmers Market!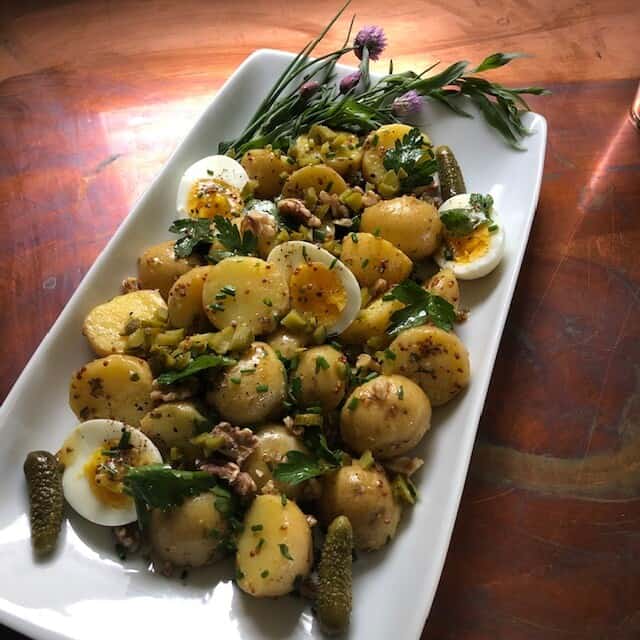 about Tarragon Walnut Potato Salad with Eggs
It's commonly believed potato salad originated in Germany, spreading eventually throughout Europe and the United States. American potato salad most likely originated from recipes brought to the U.S. by German and other European immigrants during the nineteenth century. Until the invention of Mayonaisse by the French, potato salad was made with a vinaigrette – like this one. Richard Hellman (a german immigrant) is said to have introduced his version of mayonnaise into the mix, creating American potato salad and a top-rated mayonnaise company. 
I opted for steaming the potatoes in my Tarragon Walnut Potato Salad recipe because I wanted to leave the delicate skin on the potatoes. I find that boiling the potatoes causes the skin to separate from the potato's flesh and makes them mushy. I think cooking the eggs properly is also essential; you can play with the cooking time to get them to the doneness you like. The two most important things are to shock them in fully boiling water for 30 seconds and don't overcook them. If the yolks start turning greenish-brown, the eggs are overcooked. 
Suppose you are taking the Tarragon Walnut Potato Salad to an outing. In that case, I'd recommend combining the potatoes, Italian parsley, and dressing ahead of time, but save the walnuts, extra vinaigrette, eggs, cornichons, and chives until you're ready to plate and serve. 
Don't Forget
Make sure you sign up for our newsletter to get more recipes and take a look at joining the Bonicelli Cooking Club! We'd love to have you!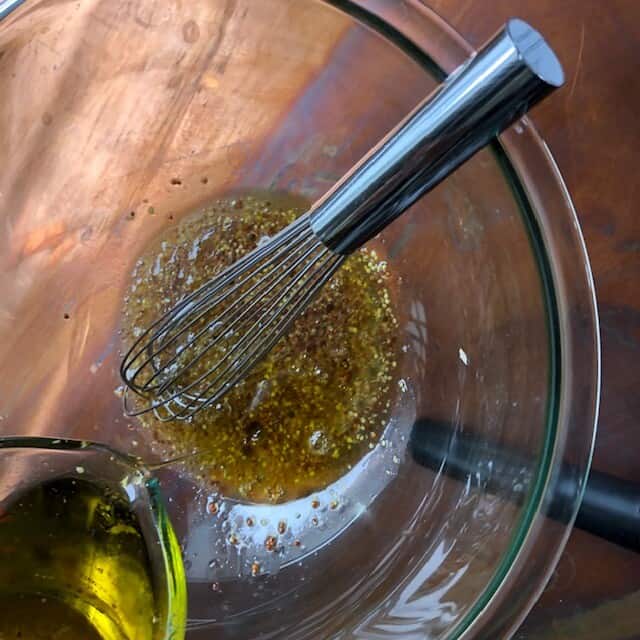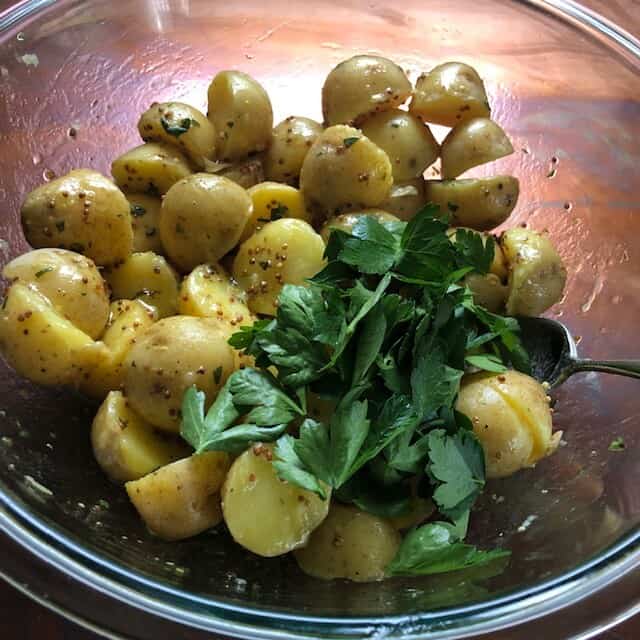 I hope you love this recipe!
If you want more recipes, Join The Club!!!
Looking for some other delicious recipes to pair with your potato salad? Try these recipes:
Step by Step Instructions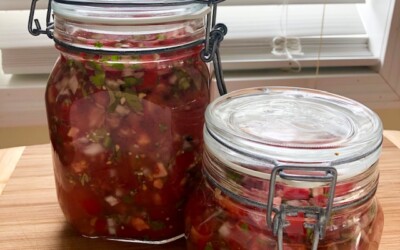 By: Chef Laura Bonicelli Preserving food with fermentation is an ancient process. Like canning and pickling, it's easy to do in your home kitchen. Buy your ingredients at your favorite Farmers Market! about Tangy Fermented Red SalsaFermented foods have significant...