By: Chef Laura Bonicelli 
Penne with Broccoli Pesto Sauce is a colorful, delicious, and complete meal. The broccoli stems are the base of its flavorful sauce. Buy your ingredients at your favorite Farmers Market!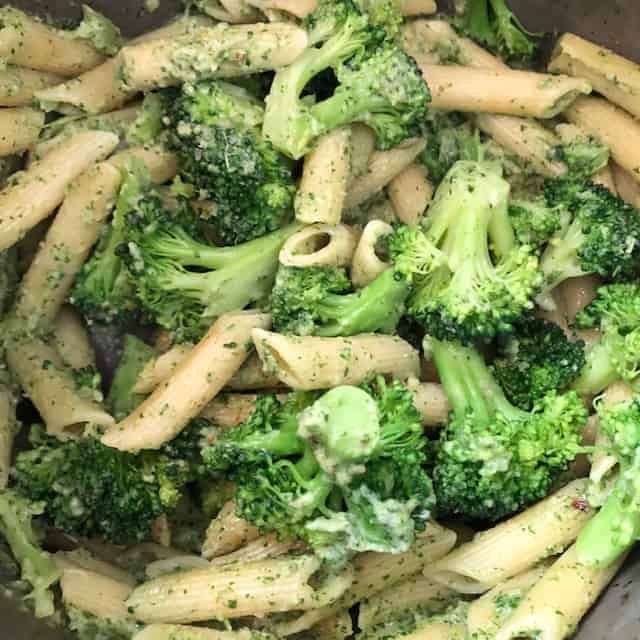 About Penne with Broccoli Pesto
 My favorite thing about Penne with Broccoli Pesto Sauce is the brightness of the broccoli. It is a gorgeous green color in both the broccoli florets and the sauce itself. My second favorite thing is that we're cooking everything in one pot, which makes cleanup easy. It's great hot or cold, and it goes together quickly, making it a perfect candidate for a weeknight meal.
Penne with Broccoli Pesto Sauce uses the often discarded broccoli stems to make a rich and creamy pesto sauce. You need to peel the stems to remove their fibrous outer layer. This step is essential. Otherwise, your pesto sauce won't be smooth. The stems cook for about 10 minutes to become soft. However, florets only need to be cooked for 2 minutes. Don't be tempted to cook the florets longer; overcooking them destroys their color, texture, and ultimately the whole dish. I add some spinach into the mix for more green color and another nutritious vegetable.
Capers add a piquant quality to the Penne with Broccoli Pesto Sauce recipe. The brightness of the lemon zest brings out the broccoli flavor beautifully. I chose a sturdy penne pasta as the dish's base because of the hearty texture of the broccoli. Cooking it for only two minutes ensures that it will be al dente, which is also correct for the pasta.
Finally, I added a little red pepper to the pesto sauce. It's not enough to add any real heat, but it adds a-lurking in the background-depth to the sauce. I hope you enjoy making Penne with Broccoli Pesto Sauce. Let me know how it goes!
I hope you love this recipe! 
Step by Step Instructions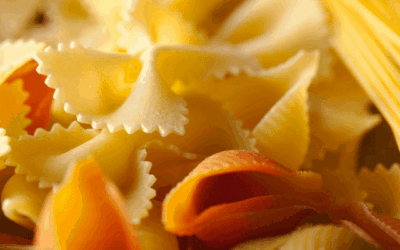 Who doesn't love a great pasta dish? We have four of them here, and every one of them is delicious. Penne with Broccoli Pesto Sauce and Sesame Soba Noodles with Broccoli and Chicken go together reasonably quickly. Ratatouille Stuffed Shells and Chicken Tetrazzini...