By: Chef Laura Bonicelli Sourdough Bacon Sheet Pan Chicken is a perfect alternative to a turkey dinner. This one is holiday-worthy and has an added benefit; you have your main dish and sides all in one pan. Buy your ingredients at your favorite Farmers Market!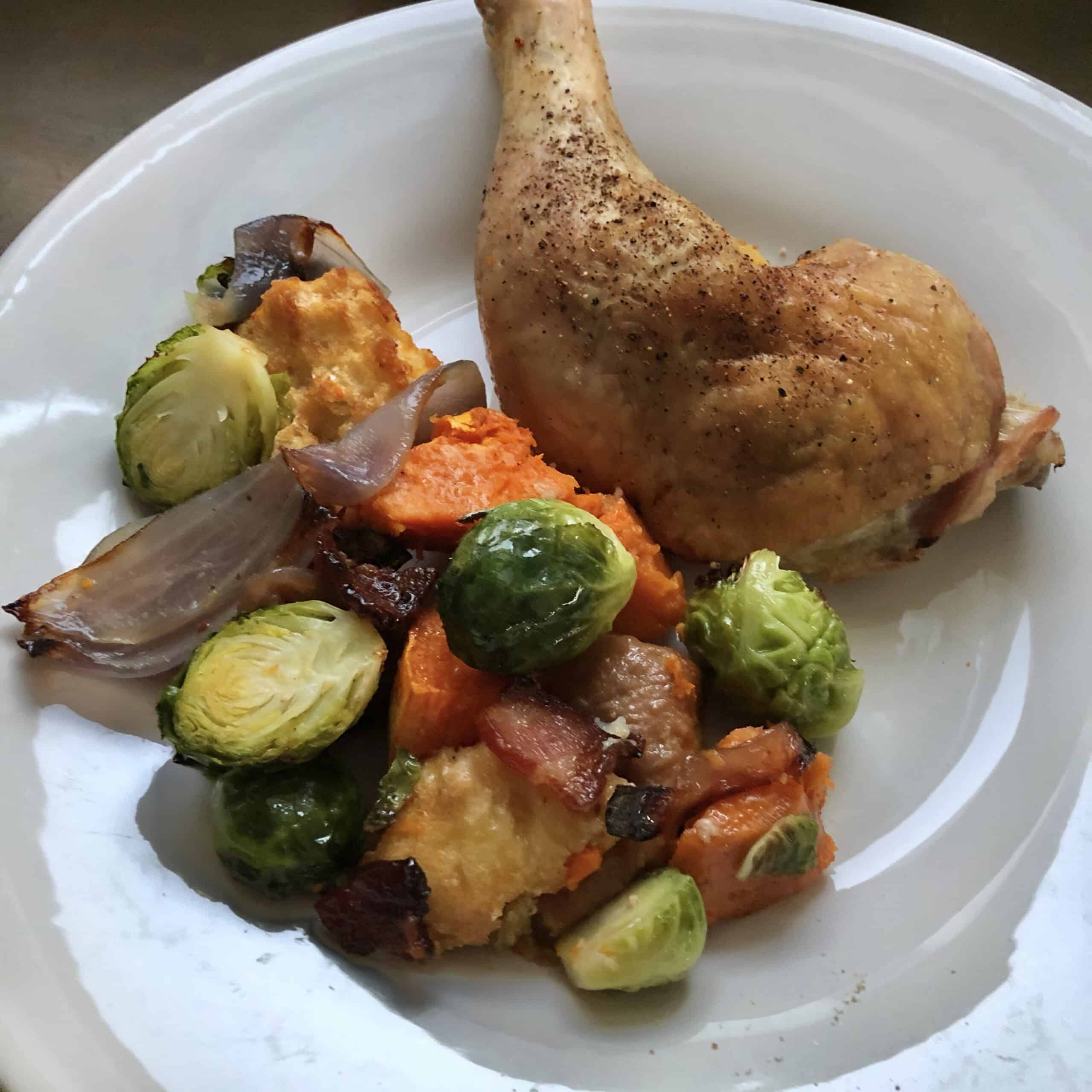 About Sourdough Bacon Sheet Pan Chicken
 Sourdough Bacon Sheet Pan Chicken takes about 20 minutes to get into the oven. After that, set a timer and your table and enjoy the aroma! The bacon flavors everything, but, in particular, it makes the sourdough bread is irresistible! So much so, I often add more bread to the recipe; because it always gets rave reviews, and it's the first thing to go. It's important to toss the bread and vegetables together with the olive oil. Make sure squash gets coated, so it cooks properly. I spend a little time moving the bacon to the outer edges of the pan. It won't be crisp if you put it under the chicken. Alternatively, I remove the chicken when cooked and put the vegetables back in the oven for 5-10 minutes.
Bacon will add saltiness; therefore, I usually limit salt to the chicken until it's cooked. Then, I add more if it needs it or leave it up to my guests to salt their own. The red onions become sweet and browned. They also add some beautiful color. The oregano cooks right off the stem and, as you stir the vegetables, flavors all of the entire pan.
In the final 15 minutes, stir in your Brussels Sprouts, making sure they come in contact with the pan juices. They will roast nicely but will still maintain their bright green color. Not a Brussels Sprout fan? You can skip them or substitute them with broccoli.
Sourdough Bacon Sheet Pan Chicken is a dish that encompasses all of the elements of a complicated holiday dinner, without any of the hassles. I hope you love it!
I like marshmallows in my hot cocoa, but I've never been a fan of them on my squash or sweet potatoes. As it turns out, the marshmallow industry instigated that tradition. They even wrote the recipes for us! We're duped again by advertising dollars. I find a little maple syrup and the natural sweetness of the butternut squash is all you need. Plus, who wants to cover up that beautiful orange color?
Yet, this dish has much more than that going for it. Let's start with the pecans. I spiced the pecans with rosemary and cayenne, which gives them an earthy quality with a little heat. They are also sweet because of the brown sugar. I usually put half of the nuts on the dish and serve the rest on the side, and they never make it through the dinner – people love them.
Feta has that salty-sour quality, and it complements and contrasts the sweetness of the butternut squash. Feta is sheep's milk. Not a feta fan? Goat cheese would be a second choice. Many people with dairy intolerance are only troubled by cow's milk; that's an added benefit. The cheese also adds richness, and it looks pretty.
Speaking of looking pretty, pomegranate arils (that's the fancy name for the seeds) are beautiful. Again, more flavor and more color. They are sweet, tangy, fresh, and good for you. Pomegranates are a little challenging. Extracting the seeds can be a mess. My best method is to spit the pomegranate in half and beat the skin with a wooden spoon over a large bowl. The arils will fall out of the membrane; for the most part, they will be completely free of the membrane and ready to use.
I hope you love this recipe. Please take a look at other side suggestions below and rate the recipe if you make it!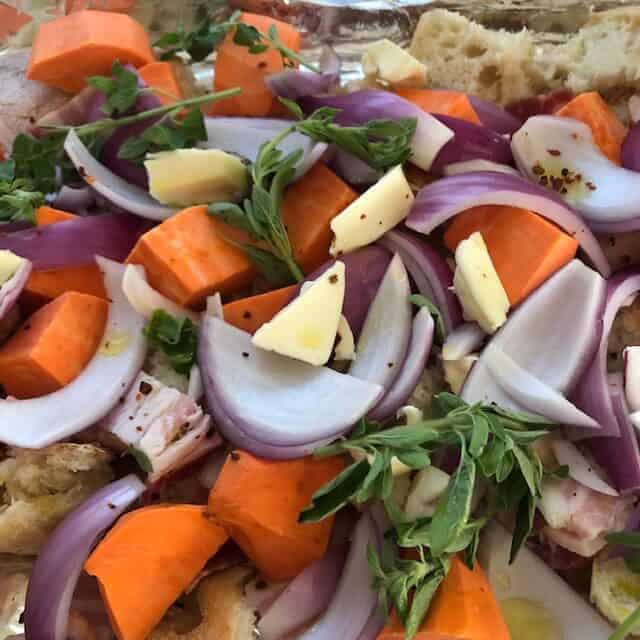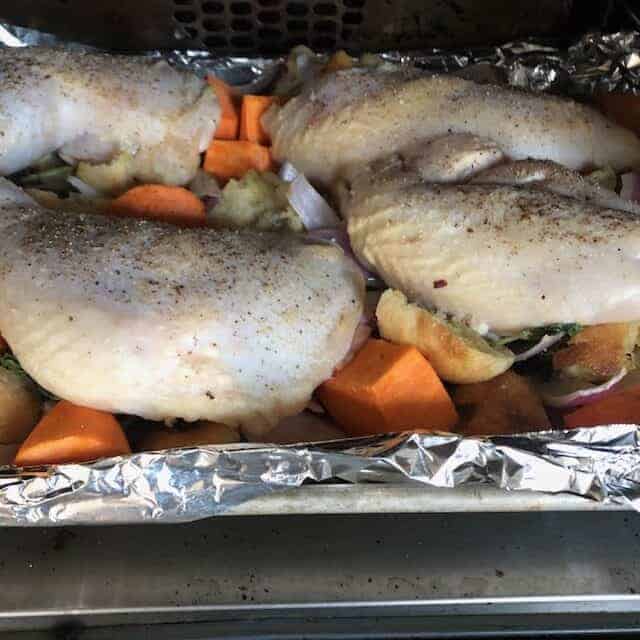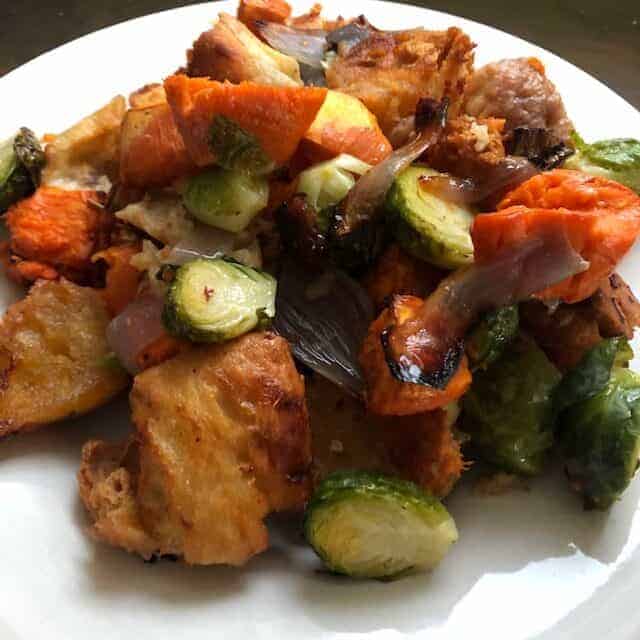 Step by Step Instructions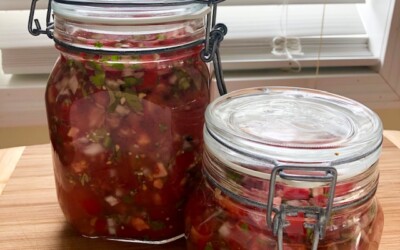 By: Chef Laura Bonicelli Preserving food with fermentation is an ancient process. Like canning and pickling, it's easy to do in your home kitchen. Buy your ingredients at your favorite Farmers Market! about Tangy Fermented Red SalsaFermented foods have significant...